Games like softball and baseball are a fun way to explore a person's own limits in a closed setting – but it's not so fun when others outside are affected. Repairs on an impacted windshield may even prompt further policy changes. A WFAA TV-Dallas, TX report last April 2014 outlined such a dilemma:
When you get hit by it, a softball isn't so soft.

'When you are driving at 30 miles an hour, it's going to hit you pretty hard,' said Boback Firoozbakht.

He was driving down McKinney Avenue Monday afternoon at rush hour when a spherical surprise came crashing down on his vehicle.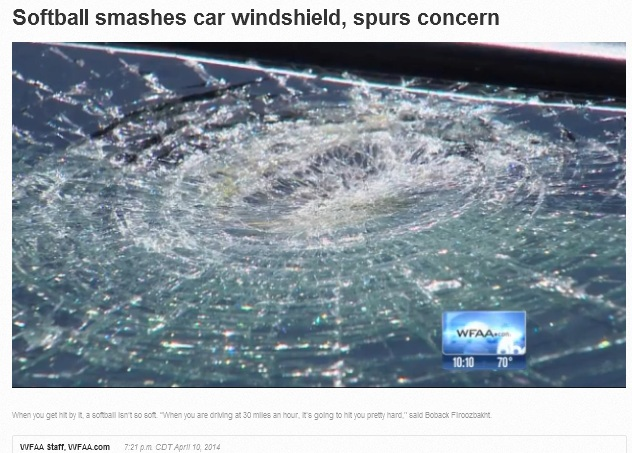 Washington State has the flat land for building softball/baseball fields, but when several of them are bunched on a single lot, it will be a liability if people or properties get hit. A home run ball made by the Toronto Blue Jays' Melky Cabrera even hit a car outside Fenway Park in Boston in July this year. While pocketing a homer that struck a windshield may seem nice, you still need to have your car fixed by Seattle windshield repair professionals like the team at Bullseye Auto Glass.
Close inspection of the damage will be critical. In recounting the Dallas incident, Firoozbakht said the ball was a home run that sailed out of the North Dallas High School athletic ground's softball area. McKinney Ave, which marks the ground's left field, runs south-southwest to north-northeast at its eastern border.
The ball strike created a small pit amidst a large spiderweb of cracks up on the windshield close to a rubber partition between the windshield and the sunroof. While the impact was not powerful enough to force a breakthrough, some of the glass on the interior side of the windshield under the impact area spilled inside the vehicle.
It is never too late for a Seattle windshield replacement if the damage is on the scale as what happened with Firoozbakht's car. Your preferred replacement firm has the capability to help you arrange a damage claim with your auto insurance provider, as many comprehensive policies allow for windshield damage in their coverage.
A cracked windshield is detrimental to a motorist's safety, and companies that know this well like Bullseye Auto Glass will make every effort to help you.
(Source: Softball smashes car windshield, spurs concern, WFAA TV-Dallas)