It's no laughing matter to drive along a stretch of road and then be placed in grave danger from a "missile" sent your windshield's way. A KVAL report last April 2014 underlined the seriousness of the danger:
A cinder block came crashing through the windshield of a passenger car early Sunday morning as it drove under the Interstate 5 overpass in Creswell, sending a woman to the hospital.

State police are asking for the public's help in findng the person (or people) that threw the brick off the Creswell overpass.

The incident happened at around 4:30 a.m. Sunday when Michael Becker, 28, of Roy, Washington was driving north on Interstate 5.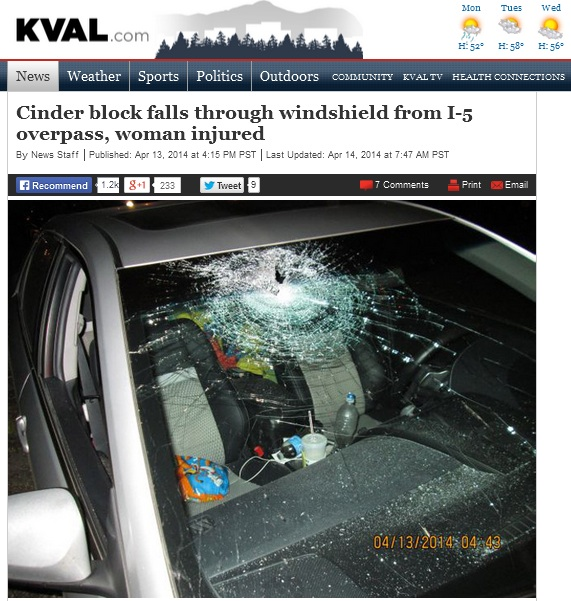 The incident may have happened well over the stateline, but windshield damage does strike closer to home for Washington residents. Many people remember the infamous 1954 Seattle windshield pitting epidemic, while others lament the degrading condition of state roadways like I-5, where old chunks of concrete have slammed into vehicles to inflict varying degrees of damage. When your vehicle's windshield has been struck by a solid object, pull over for help at a Seattle auto glass repair company such as Bullseye Auto Glass.
A full analysis of the damage is needed to aid the glass repair crews on what option to pursue. According to the report, the impact point on Becker's Toyota Camry sedan was close to the passenger side, a few inches below the roof, with an area of windshield sustaining moderate damage. Glass shards were found on the dashboard; Becker's wife Tiffany, who rode shotgun, was later treated for minor injuries from flying glass.
An auto glass repair company like Bullseye Auto Glass can act upon similar incidents through its mobile repair service. If the driver has the situation under control, they can park on the shoulder and phone in an emergency request. A support crew will then come over and repair or replace the damaged glass parts; this reduces the hassle of coming over to the repair shop while you have dealing with the impaired visibility along the way.
When your windshield suffers the same fate as Becker's, you cannot wait for it to fall apart before going to action. Call on companies that work on auto glass in Seattle to solve the problem.
(Source: Cinder block falls through windshield from I-5 overpass, woman injured, KVAL)